When you're about to open your own lash business, you need to know what you need in the lash room. In that case, you have to make a comprehensive checklist of all the things you're getting, especially the pieces of furniture.
Although different layouts and designs require different equipment, furniture, and products, some basic things should be on every lash room. Those would be a comfortable bed, attractive lighting, artistic and eye-catching decorator, organized storage, and many more.
All you have to do is fill up the spaces with all the necessary furniture, equipment, and products. Well, you can learn more about what things you require in a lash room with detail throughout this article.
What Do You Need In A Lash Room?
You have to arrange all the necessary furniture, equipment, and product to make your lash room ready for business. However, if you don't have any idea about things you need for a lash room, follow the section below: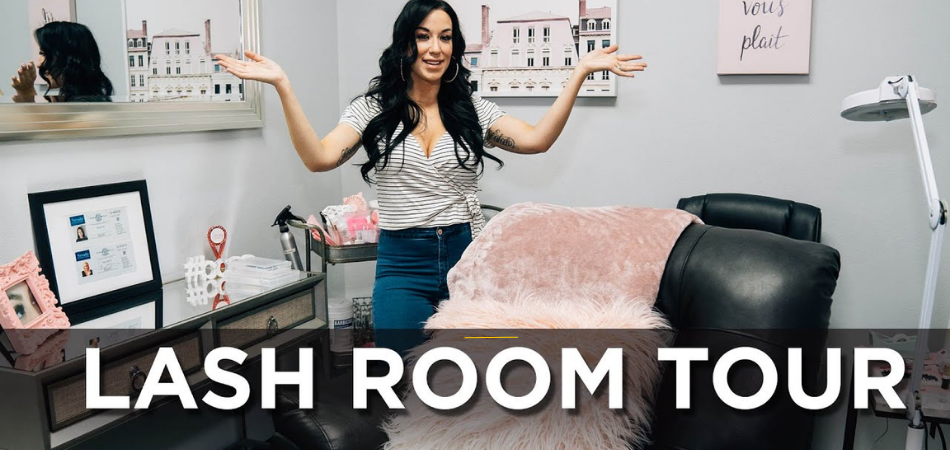 1. Get a Comfortable Lash Bed
First things first, you have to get a comfortable lash bed for your lash room. Since your client will spend most of the time in the bed, it's essential to have the bed comfortable as possible.
To make the bed comfortable, try to add extra padding to provide a soft bed surface. Also, remember to add a bed cover above the lash bed, which will help to keep the lash bed neat and clean.
2. Extra Necessary bedding
Alongside a lash bed, you have to add some extra staff to provide additional comfort to your client. Here we've included some other necessary things that you can include in your lash bed:
A Lash Pillow:
Only a lash bed is not enough; you need a pillow (preferably a lash pillow) to make your client feel comfortable while laying. The pillow will help you reach your client's eyes effortlessly and keep their heads stable and pressure-free as well.
Blankets:
Blankets are another essential thing that you must keep in your lash bed for your clients. Some people like to use blankets in their bed, and since lashes will take up to two or three hours, blankets are essential.
Bed Warmer:
A bed warmer is especially required in cold weather conditions, and using it can make your client feel super comfortable. However, be sure to ask your client about the bed warmer before turning it on.
Stool or Chair for You:
A stool or chair is required for you or your lash artist. However, getting a chair for lash artist would be a good option. Using a chair will allow you or your lash artist to sit comfortably and perform their work.
Small Side Table:
A small side table can come in handy in a lash room, which will help you continue your work comfortably. A small side table helps keep all the necessary things while performing eyelash-related activities.
3. Aesthetic, Nice, and Clean Lighting
Nice and attractive lighting is one of the big aspects of a lash studio or room. You have to arrange your lash room the way that it will give an aesthetic interior and also your clients can also click photos and selfies. Hence, helping you in branding!
You also have to ensure clear lighting so that you can easily and clearly see everything. In that case, using a ring light is one of the best options. A ring light will give you a clear view by casting an even light onto your client's face.
4. Attractive Decors
Decors are another essential thing where you should spend your time, money, and effort to make your lash studio stand out. That is because the environment plays a huge role in earning more clients. You have to set up the decoration as cute and stylishly as possible.
In that case, you can try wall decor, wall art, framed pictures, plants, and many more things. Another thing you can try is to put the lash sample picture on the wall, and don't forget about a stylish mirror.
5. Well Organized Storage System
A well-organized storage system is essential when it's about a lash room. You can not just keep your stuff lying scattered around your room which will give your studio a messy look.
To keep your supplies well-organized, you can use a lash toolbox that will keep all your necessary stuff perfectly. Alongside a lash toolbox, you can also keep a lash cart in your studio as well.
6. Necessary Lash Products
You may organize your lash room with all the furniture and equipment, but you can do nothing without the essential products. In that case, you have to arrange all the necessary lash products to perform lash-related activities. Here we've included products that you should have in your lash room:
Lashes
Primer
Foaming Cleanser
Brush
Eye Gel Pads
Tissues
Cotton Tips
Cotton Pads
Micro Sticks or Lip Stick Wands
Mascara Wands
Glue
Glue Crystal / Glue Rings
Tweezers
Debonder
Mini Fan
Along with all of them, you can also get an air purifier and a humidifier in your lash room for a comfortable atmosphere.
How To Set Up A Lash Room?
You don't have to be super savvy or hire a high-priced interior designer to set up your lash room. With simple guidance, you can easily set up your lash room on your own. In that case, you can follow the below section to get reliable set up guidance:
Select a Stylish Layout
The first thing you have to do is select a suitable layout based on the size of your lash room. If you're new and looking for a perfect layout idea, then follow the section below:
First, you have to organize the larger items like the lash bed, and it's a good idea to place it in a central position.
Place all the necessary tools, like stool, lash cart, ring light, artist's chair, near the lash bed.
Try to install a mirror on the opposite side of the lash bed's front side.
Organize your lash toolbox in any side or corner where you'll easily get access while working.
Have a couch or some chair so that when someone comes to your lash room with your client, they can rest.
Give Your Attention to the Decor
Decorator is the main thing your clients will see when they come to your lash studios for an appointment or service. That's why it's essential to give double attention to the decoration of your lash studio. Here is what you can do:
Try to put a printed copy of your logo on the wall and free space in your lash room.
Give double attention to the room color of your lash room, and you can try attractive colors to enhance the beauty.
Install mirror in the wall and also ensure proper lighting. The lighting should be attractive enough to provide an aesthetic look.
Alongside putting a logo on the wall, you also have to put some attractive wall art. You can also try salon wall art to enhance the beauty.
Nice and simple decoration will help you enhance the overall beauty of your lash room or studio.
Keep the Storage System Organized
A proper storage system is also a part of the appropriate lash room set up. Well, it's easy to organize the storage, and you can easily place the lash toolkit in any corner of your lash room.
However, the most challenging part is lash cart organization. And you can follow this video to get a complete idea of lash cart organization:
How Much Does It Cost To Start A Lash Studio?
When it comes to lash studio setup costing, it depends on several aspects. Start-up costs may vary depending on the size of the room, the furniture, equipment, and product brand of choice.
Well, if you want to start your lash business with a minimum cost range, you may have to spend a minimum of $50,000 – $80,000. Or, when you want to start a lash business with a medium budget, you may have to spend $10000 to $20000.
And if you want to establish your lash business with all the top quality products, you can spend $25000 to $40000. In short, how much it costs to start a lash studio entirely depends on your preferred budget range.
Is Starting A Lash Business Worth It?
If you are wondering if starting a lash business might be a good idea, the short answer is YES. It's one of the fast-growing and profitable businesses you and anybody can start. According to research, more than 40 million pairs of eyelashes are used by Americans every month and the number is still growing.
As a lash technician, you can easily make anywhere between  $45,000 to $150,000 a year. However, it's tough to put the exact amount since the price range would differ based on experience and where you've set the business.
In short, it's completely worth it to start a lash business that will let you make a decent amount of money. Since the number of false eyelashes users is increasing rapidly, you have nothing to worry about starting a lash career.
Final Thoughts
If you're starting a lash business, arranging all the necessary stuff is always essential. Having an attractive lash room setup represents you're a pro and helps the clients feel more comfortable and relaxed.
So if you're about to start a brand-new lash business, organize all the things that will help make your business keep running. However, throughout this article, we've tried to explain what do you need in a lash room, how to set up a lash studio and how much it might cost.
Take help from the information we've provided above, and the best thing would be making your own checklist.