What furniture do you need for a nail salon? It's one of the most frequently asked questions that we've received lately, and it's quite tough to give a straightforward answer to. Well, the reason is different types of nail salon setup, layout, and sizes require different types of furniture.
However, some common furniture like manicure stations, pedicure chairs, nail polish displays, and more needs to be in your nail salon. You'll also need furniture like salon stools and trolleys, nail dryers, pedicure chairs, etc.
Having all the necessary furniture will ensure better customer service and keep your salon running. Discover what other furniture do you need for a nail salon and how much it'll cost you throughout our discussion below.
What Furniture Do You Need For A Nail Salon?
Whether it's about nails or any type of salon, arranging the right furniture means half your work is done. On the other hand, when you're starting a nail salon business, it's essential to minimize the cost.
In that case, it'll be good to get a list of all the essential furniture that you must need for your new nail salon. To make your work easier, here we've included all the necessary furniture you may need for your new nail salon. Check them out:
1. Reception Room Furniture
Reception is the first thing your customers will see in your salon, and for a reception, a stylish desk is a must. Along with a particle and stylish desk, you can arrange chairs, couches, coffee tables, magazine rack for your reception waiting area. A waiting room with proper furnishing will make your customers feel comfortable.
2. Manicure Stations
When it's about a nail salon, a manicure station is one of the most important parts of the business. You can add several types of furniture depending on the layout and style of your manicure station. However, here is some essential furniture that you'll need for the manicure area:
A Manicure Table or Desk:
A manicure table is the heart of any nail salon, and it's must-have furniture for all nail salons. This table helps to make your job easier and make your clients feel comfortable by allowing them to rest their arms as you work on the nails.
A manicure table will allow your client to relax comfortably while you or your technicians or artists are working. Along with ensuring comfort, this table also offers convenient drawers and space to put necessary supplies and equipment.
Customer or Pedicure Chairs:
Another essential piece of furniture you must include in your new nail salon is pedicure chairs. And the basic function of pedicure chairs is to have a comfortable place to sit. Client comfort is one of the essential things you must ensure as a nail salon owner.
Get pedicure chairs that maintain the below-mentioned essential aspects:
A proper lumbar support
Comfortable cushion
Adjustable height system
Mobility with smooth and strong built casters
Proper durability
Manicure Technician Chairs:
Getting or arranging a quality manicure technician chair for nail salon is not only essential, but it's also mandatory. These types of chairs help to ensure the comfort of your salon technicians.
Manicure technician chairs are used in a nail salon because of their mobility in almost all directions. Moreover, they are adjustable, and your technicians can easily adjust the chair's height based on needs.
3. Nail Polish Rack
Nail polish displays or racks are other essential aspects you must need to consider while getting furniture for a nail salon. Arranging an attractive and excellent different colored nail polish display can tempt anyone into a manicure.
And also, a nail polish rack will give your client an easy and clear view of all the available colors. You can get any nail polish rack, including freestanding or mounted to any part of your manicure table.
4. Salon Stools and Trolleys
Salon stools and trolleys are also essential in a nail salon. Your employees may need to move around rapidly and move the necessary things from place to place. And that's why salon stools and trolleys will help to make your employees work easier and comfortable.
How Much Does It Cost To Buy Nail Furniture?
As a new nail salon owner, keeping the budget in mind is always essential. You can't just spend money on unnecessary things, and it's a good idea to make a furniture list. And an estimated budget for your new nail salon we can give is $25,000 to $50,000, or more if you have a larger setup.
Well, how much does it cost to buy nail furniture completely depends on what furniture you're going to include in your salon. However, here we've included some of the common furniture and equipment you may need for your salon with a cost list.
| | |
| --- | --- |
| Furniture | Price range (per piece) |
| Manicure stations | $100 to $750 |
| Pedicure chairs | $1,000 to $10,000 |
| Nail polish displays | $50 to $1,000 |
| Drying lamps | $50 to$500 |
| Equipment sanitizers | $50 to $150 |
We've tried to give you an estimated list of the most essential salon furniture costs through this table. A nail salon requires these pieces of furniture in quantity, and the price will multiply as such. You'll find different types of furniture with varying ranges of price.
How To Decorate Your Nail Salon?
When it's about a parlor or salon, decoration plays a big role in your work environment and increasing customers. And proper decoration and well-organized salon related-staff will create a wonderful atmosphere.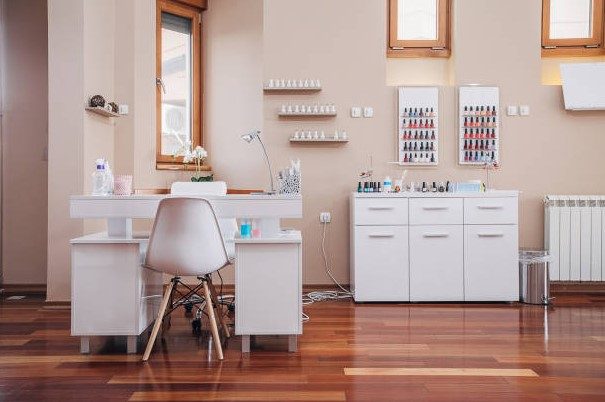 Well, as a beginner, if you want to know how to decorate your new nail salon and looking for guidance, follow the steps below:
1. Select a Theme for Your Nail Salon Decor
First things first, you have to pick an innovative theme for your new nail salon. A nice, simple, and attractive theme and interior design can significantly impact the workstation and customer's mind.
In short, getting the salon interior right means you're one step closer to getting your business up and running correctly.
2. Decorate the Salon With Mindful Color and Patterns
Choosing an appropriate interior design is not enough, and you also have to decorate your salon with mindful color and patterns. Here are the steps you can follow to ensure mindful color and patterns of your nail salon:
Apply the same color on the floor, walls, and appliances to ensure your salon's enjoyable and attractive atmosphere.
You can use lighter shades of lights to give your salon a premium look.
Apply different color accents around and inside your salon's shelves to make them catch the customer's eyes.
3. Arrange All the Necessary Furniture and Equipment
Here is where the most important part comes in, and you have to arrange all the necessary furniture and equipment for your salon. Above, we've already discussed what furniture you need to start your nail salon. And you can check out this video to know the equipment is required for a nail salon:
4. Make Use of The Full Area or Space
Last but not least, you should use each space of your nail salon by making every possible space usable. Follow the below steps for guidance:
Cover the wall with pleasant and simple wallpapers, and make sure they provide a positive vibe around.
You can use shelves, hanging cabinets, and wall organizers on the free space or walls of your salon.
You can also use mirrors to make the salon space appear larger by reflecting the interior.
Apply a ceiling mural at the ceiling which will give your salon the most attractive look.
Bottom Line
Consider the space you want to work with, keep the design in mind, select proper furniture, and create a budget; these are the main principles for a nail salon. To establish your nail salon business, you have to follow these three principles. And along with these three principles, another core aspect is furniture placement.
And throughout this article, we've tried to make your work easier by explaining what furniture do you need for a nail salon. Here we've also explained how much it costs to buy nail salon furniture and how to decorate your salon. We hope this article will help you organize your salon just the way you wanted it.